Now featuring JOSH HURT!!
If you like catchy music, then Josh is the guy for you. Make sure to stop by his Myspace page (http://www.myspace.com/joshhurtmusic) because you do NOT want to miss out.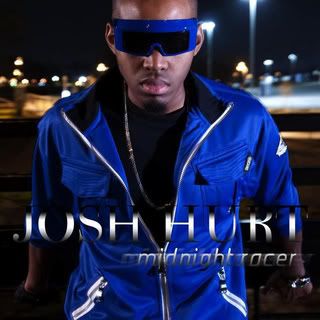 Here is the making of the video for Josh's newest single, "Midnight Racer". The official video will be released on Sept. 7.
Interview with
Jen Andujar
and
Josh Hurt
.
Before we start, can you quickly introduce yourself to our readers?
Hello, everyone! My name is Josh Hurt, Urban Pop artist hailing from Dallas, TX.
Who are your biggest musical influences?
Michael Jackson and Beyonce have not only influenced my music, but also my performances.
How old were you when you knew you wanted to be a musician?
Singing in the church choir around the age of 4, and not wanting to hand the mic to the next "soloist" made me realize I wanted to be a major performer when I grew up.
If you had one hour to spend with any musician (dead or alive), who would it be and what would you do?
It would of course be with my favorite, Beyonce. I would love to just get some musical advice from her, and just tips to be a better artist.
What 5 CDs/albums do you feel are the most influential ever made?
Michael Jackson- Thriller
Beyonce- Dangerously in Love
Lauryn Hill- The Miseducation
Prince- Purple Rain
Frankie Lymon and the Teenagers- Greatest Hits
You recently made a video for your single "Midnight Racer". Can you talk a bit about the shoot? How long did it last? What were some highlights?
The shoot was all shot at night on two separate days. It was a lot of fun, and the energy was very high. Everyone was very positive and focused about being the video an event!
Other than music, what are your interests/hobbies?
I love to eat and workout. Swimming is also a very fun past time, but I don't get out in the sun as much as I used to.
What's the most played song on your iPod?
I do tons of cardio during my workout, so I must listen to Beyonce's "Crazy in Love" to keep my energy high!
If you could be rich OR be a musician-which would you choose?
A musician, because I rather be wealthy than rich.
What is your favorite color m&m?
Yellow, especially for the m&ms with the nuts. But, they all taste the same!
What's one random fact that not many people know about you?
I am a very goofy person, but do not always literally "laugh out loud" at what I think is funny.
You are stuck on a deserted island. What are three things you can't live without?
My Bible, my Blackberry, and my bottled water. I love water more than anything!
Any last thoughts before we wrap this interview up?
I really enjoyed this interview, and I hope to have another one with you all very soon! To the fans who want more updates, follow me at: http://www.twitter.com/JoshHurtMusic!