I heard about this band quite a while ago when they still were going by the name The Outro. Their name may have changed since then but their music is as good as ever! I can't say enough about those harmonies! Be sure to give them a listen at their Myspace listed below.
Website: http://www.myspace.com/interiorsmusic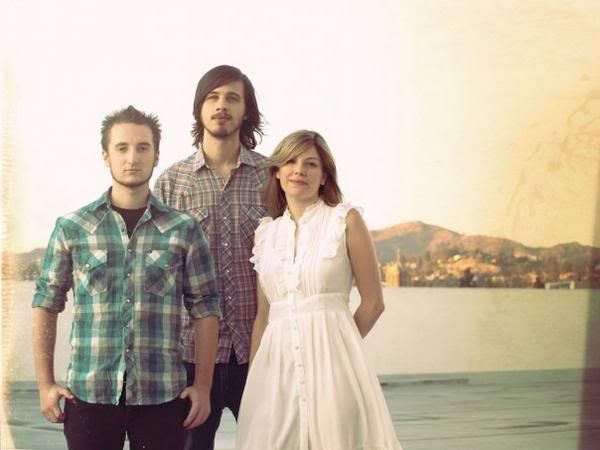 Band Biography:
Interiors are a four-piece indie rock band based out of Los Angeles, CA. Their heartfelt, nostalgic breed of music has drawn comparison to the likes of Band of Horses, Fanfarlo, and Earlimart. With the release of their 2010 EP, these comparisons are clearly warranted; especially on the emotional opening track "Tall Fences".
Formed in Connecticut during the winter of 2008; Interiors began as a three-piece comprised of brother-sister duo Brian and Madeleine Russick alongside longtime friend, Steven Jimenez. The band's sound was quickly shaped by the blossoming relationship between Jimenez and Madeleine Russick, whose undeniable chemistry shines through during each vocal harmony.
In 2009, the band relocated to LA in an effort to further their career. They have continued to grow as a unit and even recruited bassist Chris Sapone to round out the lineup. Writing and performing have become a priority for the group as they move towards their ultimate goal; connecting with as many true music fans as possible.
INTERVIEW with Jen Andujar and Interiors

Before we get into the interview, could you please give a brief introduction on who you are/where you are from?
Brian Russick, Madeleine Russick, Steve Jimenez, Chris Sapone. Brian, Madeleine, and Steve were all born and grew up in Bridgeport, CT. Chris was born in Orlando, FL. Brian and Steve were in a pop punk band together before Interiors for 5 years. Madeleine has been singing most of her life and Chris has been in bands since he was in high school.
Who are your biggest musical influences?
Anything from 90s grunge, to hip hop, to 60s rock.
You guys went through a name change (From The Outro to Interiors). Can you explain why you changed names and how you came up with the new one?
We never liked the original name...we couldn't think of anything better at the time so we just named the band the Outro. We knew we wanted to change the name and one day our bassist walked in to our house and saw the Woody Allen movie "Interiors" on the coffee table. We settled on that...
Describe your dream tour.
A world tour with nice tour buses and catered food every night!
How old were you when you knew you wanted to be a musician?
All 4 of us had a passion for music at a young age. Madeleine was singing at the age of 4.
Explain your song writing process.
Sometimes our songs come from jamming on different random ideas and other times they are very structured from the start. It seems to be always different...
What is your favorite color m&m?
Steve - green
Madeleine - blue
Brian - Christmas m&ms
Chris - all of them

Best/Worst thing about being a musician?
The best is playing to a crowd of people who absolutely love what you do and appreciate all your efforts. The worst part about it is the fact that the music industry is at what most would consider its lowest point...it is extremely difficult to make a living just playing music and not working a 9-5 job.
What is the proudest moment of your career so far?
Recording our newest 3 song EP in Portland, OR. We are very happy with how it came out.
Where do you see yourselves in 5 years?
Continuing to write and play music and hopefully be signed to a respectable label that supports our tours and lifestyle.
Band questions-Who is the...
Biggest flirt? Chris
Messiest? Steve
Most likely to get lost in a new city? Brian
Most shy? Brian
Most likely to spend too much money in one place? Chris
What is your favorite fast food restaurant?
Steve - Astro Burger
Madeleine - Astro Burger
Chris - Anything Mexican!
Brian - Taco Bell

You are stuck on a deserted island. What are three things you can't live without?
Steve - video games, guitar, Marty's Pizza Orange Hat
Madeleine - coffee, red wine, Mr. Guz (her cat)
Chris - (not available to comment, but we're sure it would be awesome and weird)
Brian - bongos, dvd collection, guitar
Any last thoughts before we wrap this interview up?
We hope that anyone reading this interview enjoys our music and comes out to a show in the future.