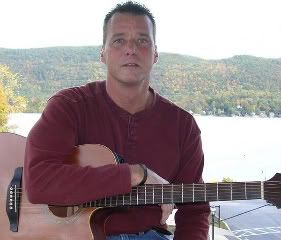 Chuck Kelsey is a singer/songwriter and live acoustic entertainer that is based in upstate New York. He is currently recording his new demo and will be creating his new album in the coming months. You can check out Chuck and his music on myspace.com/chucksoloact6.
Interview with
Elena Tapia
and
Chuck Kelsey
.
Ok sir, here are your questions...
1. Can you tell us about yourself for those who don't know you?
About me. I have been in the entertainment industry for 30 years. Have been in numerous bands and doing a solo acoustic act. Also a studio session musician. I have played all over the east coast of the U.S. From Virginia to New Hampshire. A few years back I was nominated by the Northeast Country Music Association for entertainer of the year, and also for song of the year. Mainly now my shows are in NY, and Vermont! I am very fortunate to make a good living playing shows!!! I do a mix of music at my gigs from originals, classic rock, alternative, trop rock, and main stream. I truly love what I do, and think I am very lucky!!!
2. What is your long term career goal?
I think my long term goal is just to keep doing my shows, writing new songs, and trying to give people a good vibe! I would be most happy with that!
3. You are stuck on a deserted island. What are three things you can't not live without?
Fishing pole, guitar, and lots of pens and paper!!!
4. If you could give a new artist advice, what would you tell them?
Be you, and keep it that way! Just do what you do. If it's meant to be it will. Also beware of a lot of people who make promises!!! Last but not least, knock doors down until they say yes, or tell you to go away. Some will, some won't, so what next!
5. Are there any organizations that you help support?
I am a member of the LGA [Lake George Association) and the ASPCA. I raise funds and awareness for both. Not to mention all the benefits, and fundraisers for many organizations and people in need!!!
6. If you could tour with another artist (dead or alive) who would it
be and why?
If I could, I think of 3 people-James Taylor, Neil Young, and Philly's own Robert Hazard. All are great story tellers.
7. What is your favorite song of all time?
Too many to count!!

8. Pepsi, Coke or Dr. Pepper?
I don't drink soda!

9. What do you do when you're not playing music?
When I am not playing music, I try and spend quality time with family and hang with friends. Of course, my passion is fishing and as I write this, I am starting the process of becoming an outdoor fishing guide! I love the outdoors and traveling to remote places! Everything else melts away!!!
10. Any last thoughts before we wrap this interview up?
Just be true to yourself and always continue to learn. Our greatest resource is ourselves!!