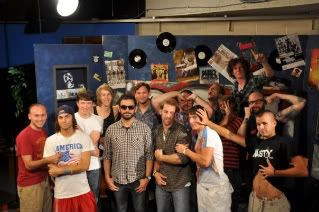 The Breaking the Mold crew with Cartel.
What is Breaking the Mold?
Breaking the Mold is a creation of when music lovers get curious. Not out to ask the same boring questions, the show is supposed to not only be informative but be entertaining as well to suit the college crowd audience. Based out of Marywood University in Scranton, PA the show's producers just want to have fun yet be professional at the same time. Boasting studio visits from heavyweights such as Motion City Soundtrack (Columbia Records), NeverShoutNever (Warner Bros. Records), Duff from Food Network's "Ace of Cakes" and Cartel (Wind Up Records) along with on-site interviews with Rise Against, UnderOATH, Thrice, The Gaslight Anthem, and a slew of others, the show welcomes artists big and small. The name "Breaking the Mold" is indicative of the mission set out by the staff: no boundaries.
Watch more interviews and videos here: www.youtube.com/user/breakingthemoldtvm