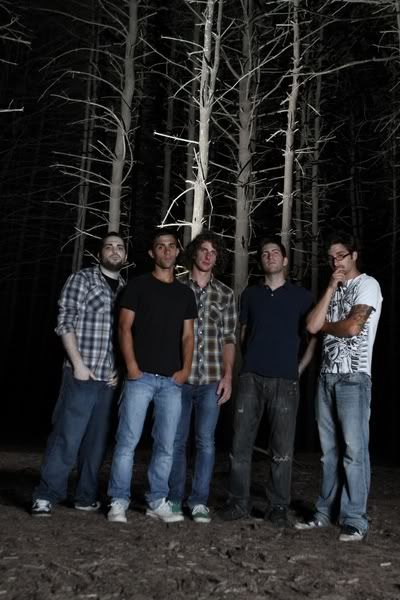 Biography:
They Sent Us Here formed in early 2010. Based out of Long Island, New York, they have worked passionately to distinguish themselves from all the many musicians that surround them.
In September, 2010, they recorded their first three-song EP at Nada Studios with John Naclerio (My Chemical Romance, Brand New, As Tall As Lions, etc.) Now, they are hitting the ground running, trying to reach out to the masses.
Let it be known: They Sent Us Here will never take the easy way out. In a world where anyone can become a star from the convenience of their computer seat, these five artists strive to create a sound of their own. This intricate sound, while carefully comprised, aims to evoke the chaotic psyche of a turbulent world.
Interview with
Jen Andujar
and
They Sent Us Here
Who is They Sent Us Here?
They Sent Us Here is James Barracca (vocals), Mike White (guitar), Mike Armenti (guitar), Joe Bariatti (drums, and Branden Gallagher (bass).
In ten words or less, describe your music to someone who may have never heard you before.
An eclectic mix of everything we like about music.

How did you come up with your band name?
We wanted something that was thought provoking. There are so many directions you can take with it, and that's what we like about it. If we can inspire people to ask questions and want to learn more, hopefully they'll become inspired to take a closer listen.

How did the band get together? Did you all know each other beforehand?
Well, we were sent here.
Do any of you have any formal musical training?
Joe went to school for music out in California. The rest of us have no formal training. We're comfortable with that because we aren't sure if our creative output would be the same if we had learned the things they teach you in schools.
Please explain your song writing process.
We've managed to write songs by taking many different approaches. Sometimes, we'll jam off of a riff that one of the guys came up with. It may be a brand new riff, or it could be an old idea. There are other times when we jam out and an exciting or interesting idea would come into light.

What is your proudest accomplishment so far as a band?
No doubt, our proudest accomplishment so far as a band has to be having the opportunity to record with John Naclerio at Nada Studios.
Where do you see yourselves in five years?
Hopefully, we'll be living comfortably and on tour, as we continue to write new music, explore new places, and meet new people.
If you had one hour to spend with any musician (dead or alive), who would it be and what would you do?
If we had the option, we'd probably go with a musician who's alive (like Paul McCartney or Bjork), so we can collaborate and jam.
If you could be any superhero, who would you be and why?
Batman. He's all about vigilante justice. Not to mention, he has the sickest whips.
BAND QUESTIONS
Who is the band is...
the most likely to get lost in a new city?
Mike (White) because he can't go anywhere without his GPS.
the biggest flirt?
Joe, if he wasn't tied up. He's definitely the most graphic about his sex life.
the shyest?
Branden? Maybe? None of us are really all that shy...

the most athletic?
James. He's all about running 10-20 miles a day.
the messiest?
Mike (Armenti). Words can't describe...
Where can we learn more about you/buy your music?
Our official website is our Myspace page, www.theysentushere.com. You can't buy our music though, because it's free for download! You can download them at our PureVolume page, www.purevolume.com/theysentushere, or our Reverbnation page, www.reverbnation.com/theysentushere. Also, if you want to add us on Facebook, visit www.facebook.com/theysentushere.
Any last thoughts before we wrap this interview up?
Coexist in peace, love, and harmony. Evolve as one. The Venus Project.