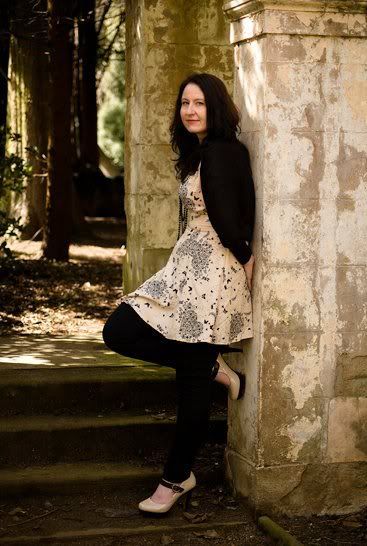 Interview with
Jen Andujar
and
Maxi Dunn
Before we get into the interview, could you give our readers a brief intro on who you are?
I am a singer/songwriter from Liverpool, England who has been writing and recording on and off for the past twenty years. I started singing in bands when I was eighteen and gained a lot of popularity on the music scene during the 1990s. After taking a break in 1997 to have my two children, I returned to music in 2007 when I recorded a couple of tribute songs to Jellyfish & The Posies for a small Indie label based in the USA! I released my first EP "Winter Ghost" in December 2007 and my first album "Welcome To Soonville" in October 2008.
How would you describe your music to someone who may have never heard of you before?
My Music is quite dark, intense with a few bursts of Power Pop here and there! I am a moody songwriter who writes from the heart and experience and I like to move the listener, who hopefully can relate to some of the songs and subject matters.
Who are your biggest musical influences?
Way back when I was a young girl I was very much into bands/artists such as Japan, David Sylvian and John Foxx! Biggest influences from a female artist perspective, I would have to say, Kate Bush, Aimee Mann, Sam Brown, Sam Phillips & Sarah Mclachlan! I am also a huge fan of A-ha & Jellyfish! Both Morten Harket and Andy Sturmer have fantastic male singing voices!
At what age did you discover your passion for music?
My Dad played Guitar all the time when we where children! He used to be in a little country band that used to play the pubs in around the area! So we grew up with music in the house all the time! There was always lots of singing to The Beatles tunes. So from a very young age!
What is your dream tour?
I would love to do a tour of the USA with a full live band! It would be totally amazing! Even if it was as a support to someone else, it seems just a dream at the moment!
Your latest cd is called "Welcome to Soonville." How did you come up with that title?
My exbest friend/ex love and myself referred to a place we where meeting as "Soonville", sadly our friendship and relationship ended shortly after this and a lot of heartache and devastation followed. It seemed quite appropriate to call the album that, especially as seven of the songs on "Soonville" where about the situation. Something that was meant to decide a new future, actually ended what was once a good friendship! It is all still very sad really!
Which song of the new album is your favorite to perform live?
I really enjoy performing "Always Be My Friend", it is really fun to sing and perform. Also it is one of the more poppier up beat tracks of the album too.
If you could record a song with any artist, who would it be and why?
I would really love to sing a duet with any of my favourite male artists really, David Sylvian and Morten Harket to name two! I think our voices would sound great together! Also I have loved there music for so long, they feel like part of my family!
Where do you see yourself in five years?
I would hope to find new love, get married, maybe have more children (I already have two to a previous relationship).
I would also like to be able to do my music full time and quit the day job! Wouldn't that just be marvelous :-)
Other then music, what are your other hobbies/interests?
I have two children aged eleven & nine, so they kind of keep me very busy when I am not working! When I get the chance I like to read and bake, I have this thing about baking at the moment! I love to cook too and make everything from scratch!
FAVORITES:
What is your favorite...
color? Green
song? This is a difficult one but I will say "New Mistake - Jellyfish"
food? Indian
article of clothing? I have a few special tops that I don't like to part with
tv show? The Mighty Boosh
candy? Jellybeans & Cadburys Chocolate
Any last thoughts before we wrap this interview up?
Thank you for giving me the opportunity to talk about myself and my music! If you would like to purchase a copy of my debut album "Welcome To Soonville", you can purchase a physical copy at my website, www.maxidunn.info from dabooboorecords, CD Baby or Jam Recordings! You can also download at Amazon & Itunes!
My second album "The Neglected Gambit" is expected to be released around February 2011