Interview with Cindy D'Adamo and James Mathis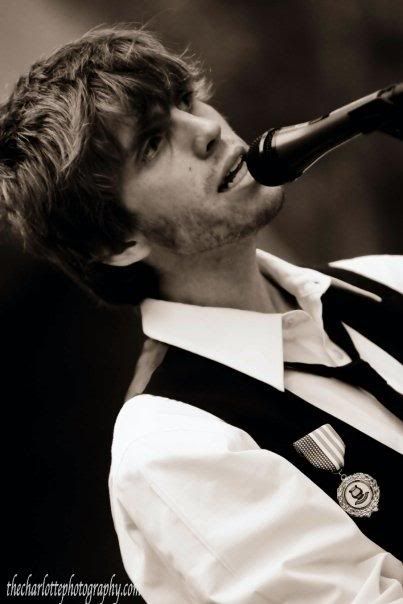 I interviewed James Mathis, a singer/songwriter from Waxhaw, NC currently living in Greensboro. He classifies himself as: Indie/Folk/Alternative, and is working on his first EP.
Cindy- At what age did you begin playing guitar? When did you write your first song?
James-
I started playing guitar around 13. But I had been playing piano since I was about 4 or 5 years old. I had started playing violin around age 8, so by the time I started playing guitar I already had a basic feel for chords and melody. I think the very first time I wrote a song, I was seven. I think I based the melody line off of some Disney movie I had just seen. It annoyed the crap out of my little brother.
Cindy- Are you influenced more by current artists, more 'classic' artists, or what inspires your music?
James-
I think I am influenced by the old school of songwriters/performers more than anyone. No one can quite get to me like Joan Baez or Dylan. I think that a lot of the newer artists have a lot of good things to emulate as well. But I don't think anyone holds a candle to the depth and soul that people like Garfunkel, Costello, and Dylan exude.

Cindy- Which artist, dead or alive, would you most want to do a duet with and why?
James-
That's a tough one. I think that it would have to be Tom Petty. I can identify with him a lot (minus the wealth and fame). He grew up in a pretty boring town in the south. He didn't really fit in with a lot of his peers because he was true to who he was and who he wanted to be. Besides all that…his songs are pretty much amazing.
Cindy- If you could be rich OR be a musician-which would you choose?
James-
Is it possible to be both?! Well, I think being a musician would be best for me because music lets me experience life on a deeper, more emotional level. Money would be nice. But you only live once right?
Cindy- Have you ever sang in a chorus or musical production/play? Which one(s)?
James-
I have appeared in quite a few musicals. My favorites were probably "Peter Pan" and "Oliver". "Annie" was also a lot of fun. I think there is a lot to be said for musical theater. Everyone kind of dismisses it as not "rock n'roll" enough…but I think it really helped me develop a stage presence and a voice. I think more people should try it.
Cindy- What is the funniest thing that has ever taken place at one of your gigs?
James-
I don't know of a single funniest moment at a gig. You know…everyone plays those shows where someone yells out "FREE BIRD!!" as a request. There was that one time when someone started singing along in the audience and they were so off key that it threw me off. I think that was more embarrassing than anything else though.
Cindy- What is your favorite song of all time?
James-
Right now, my favorite song of all time is probably "First Days of Spring" by Noah and the Whale. It talks about the bitterness and hurt that comes with a failed relationship. But it also has redemption, because from every dead thing, something new and vibrant will emerge. It is part of life.
Cindy- What would you do for a Klondike Bar?
James-
I think the question should be: "What would I NOT do for a Klondike bar?"

Cindy- What 5 CD/albums do you feel are the most influential ever made?
James-
1. Love and theft
2. Funeral
3. Damn the Torpedoes
4. In Utero
5. We Both Was Young (a personal influencer)
Cindy-If you could be anything other than a musician-what would you be?
James-
If I could be anything other than a musician, I think I would be a doctor. I always want to help people have better lives. If I couldn't do that through my music, I would want to be a doctor and go to third world countries. I traveled to Nicaragua as part of medical team (I am certified Nurse's Assistant) a year ago and it really changed my view of the world.

For more information on James Mathis, please view his MySpace located here:
http://www.myspace.com/jamesmathismusic