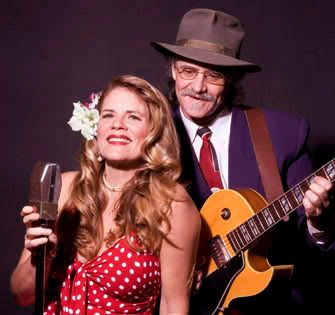 Interview with Jen Andujar and Donna Greene
Before we get into the interview, could you please give a brief introduction on who you are/where you are from?
My name is Donna Greene. I've lived in Santa Barbara County, California for most of my life... born near Portland, OR and lived for awhile in San Francisco and Washington, DC, but other than that I've been around here. I was very much into music when I was young. I grew up around it and was in several bands as a teenager. Then I married too young, started a long journey working, going back to school, then having kids. In the process of all that, I got away from performing and making music. I got to the point in my life where I was very depressed and decided I needed to get music into my life again. I ended up in another band before establishing this one and the whole process of being immersed in music really saved my life. It brings an incredible joy and meaning to my life that I don't think I could survive without now. It's my passion and my strength.
In one sentence, describe you're music to someone who may have never heard you before.
This has been written to describe my music... It's a perfect combination of tasty old blues women songs, bluesy classics and originals performed with ultimate cool, a selection of distinctive, horn-laden jazz riffs with a woman who can really tell a story.
Who are your biggest musical influences?
I would say my biggest musical influences have been Billie Holiday, Dinah Washington, Etta James, Bessie Smith, Eva Cassidy, and Bonnie Raitt. Of course there are many more.
Describe your writing process.
My writing process can stem out of what I may be feeling at a particular moment in time, something that just comes out of the blue, or just trying to consciously come up with what I think people (women in particular) want to hear about. I have books full of writing and not that many have made it to the completed song list. It's a good practice to just keep the valve open and keep writing. The title track of our CD, "A Girl's Gotta Have a Little Pleasure" was in a different set of lyrics when I came up with that line. We ended up taking that one sentence and writing a different song around it. Our song, "Shoe Boy" was written one Sunday afternoon sitting around the living room thinking up what women would like to hear sung about, and that seemed like the perfect theme at that moment. After all, what woman doesn't like shoes and what woman doesn't like to have a sweet young thing kneeling down on his knee in front of her, fitting her with anything she picks out!
What is the funniest thing that has ever taken place at one of your gigs?
I can think of one thing that just happened last month. We were playing at a private home here in this area. The band was lined up next to a pool, and for some reason, the hosts put the bar on our of the pool, so they either had to squeeze through in front of us or get through the bottleneck on the other side. About halfway through the party, one guy, who had already had plenty to drink, decided to walk across the little tiled section that separated the pool from the jacuzzi. Well, he lost his balance before he got across it and went into the jacuzzi but came out with his drink mostly unspilled. It was rather entertaining for us in the band.

If you could give advice to an artist just starting out, what would you tell them?
Advice to an artist just starting out? Definitely don't do it for the money. It doesn't work that way. Do it because it's your passion and you HAVE to do it... for yourself.
What is the best/worst thing about being a musician?
The best thing is the response I get from people, all over the world now. It has been very fulfilling. I love to perform for an audience and watch their reactions to what I'm singing. It's almost as if they're mirroring my expressions much of the time. It's wonderful to see them get lost in the moment and forget about themselves. Women especially. I love to empower them. The worst thing I guess, is that it's so much work to get the word out to the world (about our music). I thought creating the CD was a lot of work until I got that done and starting doing the promo and marketing. That has been huge, but it's been paying off. It can get discouraging though, as it is extremely time consuming and doesn't have much in the way of financial benefit. I think any artist has their ups and downs on this roller coaster called life.
If you had one hour to spend with any musician (dead or alive), who would it be and what would you do?
I think I would have to say Billie Holiday. I would like to hear more about her from her own lips. And about the music.
What do you like to do in your free time?
In my free time, I love photography, walking/hiking in the hills or on the beach with my dog, cooking creative dishes that my boyfriend always tells me look like magazine covers, spending time with family and friends, reading, traveling, ceramics, gardening and movies.
What is one instrument you wish you could play?
An instrument I wish I could play BETTER is piano. I took many years of lessons, all classical. I haven't seemed to transfer that over to the kind of music I do. I'd also like to play the guitar better. Other instruments I wouldn't mind knowing how to play... banjo (my grandad's influence), sax, oboe, bass and cello. Weird, I know. :)

What is your favorite song that is currently popular?
Nothing stands out. I don't listen to a lot of 'popular' music. More jazz, blues, 60's, latin, etc.
Where is your favorite vacation spot?
I love Italy and France. But also, Bali, New Zealand, and Australia. I would love to follow our CD around and perform in these places and many more!
Where can we learn more about you/buy some music?
My website is www.greeneblues.com. You can buy the CD there, I'll even sign it!! We also have T-shirts.
Any last thoughts before we wrap this interview up?
I want to thank you for this interview and the chance to share my thoughts and music. Cheers!!